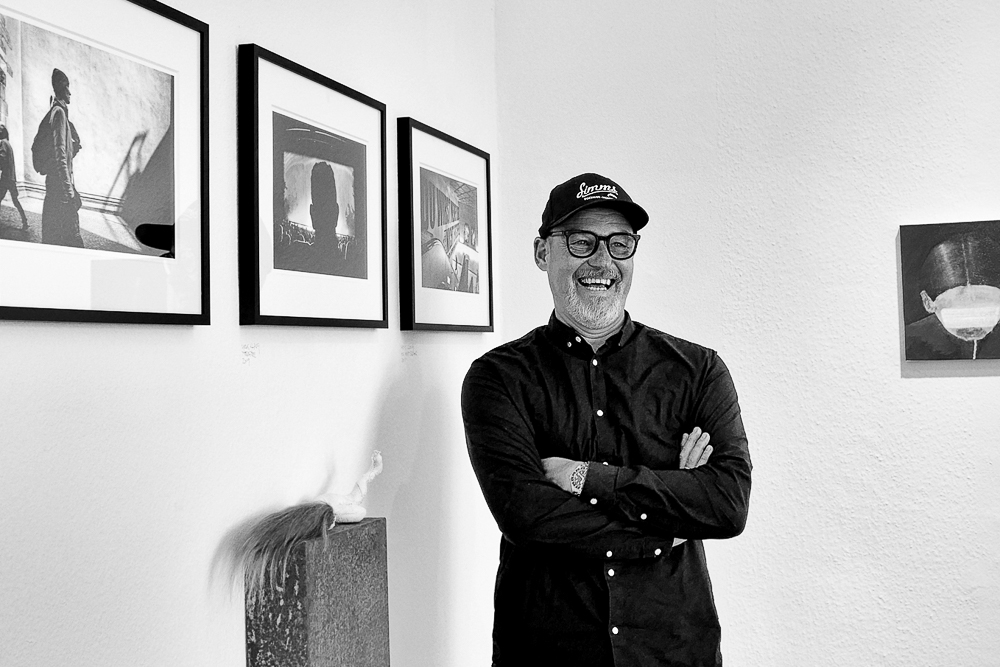 Hi, I'm Max.
"Contrasty, almost analoguos, Max Kling's photographs appear as counterpoints to the uber-perfect, optimized camera and smartphone technology. Strolling trough the streets of Frankfurt, he shows us scenes and moments you could encounter too, but in fact often don't. Our vision may be obscured, our mind set for tomorrow, and our eyes deafened by pin pricks of digital flood of images. These moments are captured by Max Kling, they dissect the clichés of urban life and give us time to evolve our own thoughts and stories. No image is staged; all photos emerge on site and impulsively. He abstains of colour thus reducing to the essentials. To "find beauty in banality – is what I'm all about", Max Kling says.
After three decades' work in advertising, he lives in Oberursel and mainly works in Frankfurt and the surrounding area.
Prints and pictures of his portfolio are owned by numerous collectors of photographic art and are also part of permanent collections of different companies/NGOs."
Prints can be purchased directly. All prints are printed on Hahnemühle Fine Art Baryta Paper, and will be signed and dated.
Please send PM for any questions or requests. Your individual format will be printed on demand. Passepartout and framing service on request.
EXHIBITIONS | AWARDS | PUBLICATIONS | MILESTONES
2023   Automaten | Group Exhibition | Trashland Kunstlabor | Kronberg/Taunus
2023   Brand Ambassador for Ricoh GR Cameras Europe
2023   Galerie 17qm | Curator for Photography | Marburg
2022   Alles ist wirklich. Nichts ist wahr | Solo Exhibition | Englische Kirche | Bad Homburg
2022   EinZweiBlicke V | Int. Photofestival Bad Laasphe | 7 Photographers from 3 Continents
2021   Frankfurt Transitions | Exhibition | Hilton Hotel | Frankfurt
2021   Binding Fotopreis | Member of the Jury
2020   Journal Frankfurt | Magazine | 30 Years Anniversary Edition
2020   Apfelwein Galerie Frankfurt | 25 Ansichtssachen | Exhibition | Frankfurt
2020   Galleri Heike Arndt DK | Exhibition | Kettinge, Denmark
2020   Galleri Heike Arndt DK | Fresh Legs 2020 | Exhibition | Berlin
2020   Galerie 17qm | Exhibition | Marburg
2020   New Talent Award | Profifoto Magazine | Shortlist
2019   Curator/Editor of PHOTOGRAPHY ART COLLECTION
2019   Edge of Humanity Magazine, USA | Feature
2019   kwerfeldein, Magazin für Fotografie | Interview
2019   Part of the Permanent Art Collection of Taunus Sparkasse Bank | Collection | Bad Homburg
2019   Soul of Street #22 | Magazine | Cover Photo, Feature and Interview
2018   Foto-Triennale RAY 2018 #EXTREMECITIZEN | Awarded | Finalist Top Ten, Frankfurt
2018   'Urban Jungle' ArtConceptsToGo | Exhibition | RAK, Frankfurt (1.2. –30.7.2018)
2018   Part of International Streetphotography Collection Freddy Langer
2018   'Top of Frankfurt' | Awarded | Finalist Top Ten, Trianon, Frankfurt